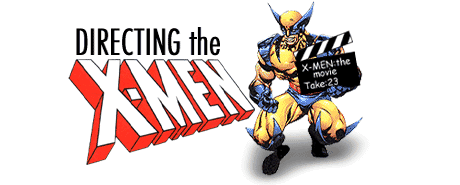 Audio News: James Marsden Talks 'X-Men'


'Disturbing Behaviour' star can't discuss big movie, honest... but he does.
James Marsden is set to take the world by storm thanks to his role in the big-budget and even bigger special effects-laden summer blockbuster 'X-Men', but the actor tells Popcorn, "There's very little of it I can share."
Actually that's not true. Press him a little further and the actor goes onto explain his reasons for doing the film and why he thinks this will be unlike any other comic book hero movie ever made.
Marsden explains his 'X-Men' director Bryan Singer as the main attraction for taking the role of Cyclops and describes the 'Usual Suspects' helmer as "one of the most talented directors out there now". And while he can't give away any plot details, he does give a taste of the movie saying, "It's like if Stanley Kubrick were to direct the 'X-Men' movie. It's very dark, very cold, very serious, but there's definitely plenty of action and style to it."
Unlike big-budget movies of recent years, Marsden reveals that Singer's main concern was to create a character-driven movie in keeping with the comic book, and the actor has every faith in his leader, declaring, "I think he pulled it off, I think it's going to be a really great movie."
---
4/20/00
The Official Site has been updated with the latest picture from the set: Rogue and Logan making a trip together...



Patrick and the crew at Coming Attractions have gotten word that you might be able to buy your own pair of Cyclops sunglasses:

It seems a number of you have sent off your e-mail inquiries to Oakley about the future avaliability of Cyclops sunglasses. Here's the response our readers have been receiving:

Thank you for your e-mail. The style of glasses in the X-Men movie are called Juliet's. They are currently not available with Ruby Quartz lenses, however, they are available in 4 other different color combinations. Fortunately, we are currently testing the possibilities of having the Juliet's available to the public with Ruby Quartz lenses. So stay tuned and check back with our website for future information regarding the X-Men movie. Thank you for your interest!
Sincerely Adrienne

Again, the Oakley representative we spoke to last week told us the company is thinking about a production run for the Ruby Quartz Juliet shades but is unsure of the public demand for such a speciality pair of glasses. Based on the attention level this movie is getting, we're pretty certain there's a demand for these things -- but if you're interested send an e-mail off to Oakley and tell them you want to see them for sale.
I for one, would love a pair of those kickass sunglasses... bring on the marketing people to me!


---
I went down to Rouge River Valley with two close friends to see if I could catch any of the shoot going on their for the upcoming X-Men film. Unfortunately, we got there a little late, but I did manage to sneak into the location.

Rouge River Valley is a large park, here in Toronto, Canada. There are a lot of trees, and it's out of the way. All in all, it's a great place to shoot a movie without interruptions from the outside world.

The road leading into the park was closed off from incoming traffic, but I did see quite a few trucks exit the area. We crossed a clearing and slid down a steep incline onto the road. It lead down to a bridge, beyond which a vehicle sat guard, with its lights on.
We attempted to cross the river, which was frozen over, but I thought that was just a stupid thing to do. It's the type of story you see on the news: "Young Men Fall in River Attempting to Sneak onto Film Set." After chickening out we went back to the bridge, where thankfully the guard car was gone.

Upon crossing the bridge, some of the first things we noticed were some mangled bits of metal along side the road. There were three of them about fifty feet apart of each other. At first I assumed they were three separate cars, but as we learned later, they all belonged to one truck. The piles were completely flattened and had obviously gone through an explosion. I could pick out bits and pieces here and there, including a ladder (one of those ladders that are attached to the sides of a truck), doors, and bit of the chassis. Other than that, the rest was unrecognizable.

Across the road from those pieces were two huge fans. I knew there was supposed to be artificial snow at the shoot and I assume these fans were used to simulate a storm.

Further down the road at the side of a hill were three crane-like objects, used to mount cameras on.

During all this time we were hiding from frequent cars and trucks as they left the site. We were even trapped behind a tree for about 30 minutes as it sat idle, a stones throw away.

We hiked up a path next to the hill, almost falling down a cliff, and found myself in the actual base camp for the location. There were two tents in front of me, one large white one, and smaller green one. My two friends went off to explore, leaving me to try take some pictures.

It's at this moment where I must make an apology. I took along my digital camera to take some pics, but the battery was not charged, so I only managed to snap a poor shot of the bridge, and the guard car across from it. I'm not sure if any of the pictures would have turned out anyway, because it was so dark and I did not want to use the flash to attract attention to myself.
Inside the white tent was a huge light, and other assorted equipment. Wooden boards were lain down as paths around the camp, including two portable restrooms. I saw a lot of wires, lights, and fans around the camp, and a sign that read "Careful, Path May Be Slippery." At the side of the camp was a huge crane with a hook attached. What it was used for I can only imagine, but I did notice that some pine braches had been attached to it as makeshift camouflage, so it must have been in a shot somewhere.

We had seen what we came for, so we decided to head back, but not before taking a souvenir. Each of us reached into a sack by the path and came away with a handful of fake snow. We took one last look around and hiked back up to the car.
- Sevaan
Following a couple of reports that the final shoot for the X-men movie would be taking place at a location not too far from where I live (Rouge River Valley) in Toronto, I and a couple of friends decided to set out on a recon mission to see if we could catch any of the action. From what we had heard, residents in the area had been warned about possible explosions and loud noises, so as we set out for the site we were hopeful of seeing some exciting stuff.

We arrived within the vicinity of the location at approximately 8:00 pm. It was a wooded area with lots of hills, and a small river running through the area. Our spirits were lifted when we discovered that the road leading to the supposed filming area had been closed off. Obviously the report had been true and there was a real possibility of seeing some real action.

We parked the car and traveled along the road leading to the area. A few cars went by, leaving the area which indicated that the shoot had probably ended. We avoided these usually by hiding behind trees or just standing still since it was really dark.

From a distance we could see a narrow bridge crossing the river. There seemed to be some activity on the other side of the bridge and there was a car, visibly guarding the entrance to the area. There were quite a number of lights set up around the bridge which made it virtually impossible to cross it without being seen.

We tried to find a way to the area through the surrounding woods. We were debating whether we should attempt to cross the river which due to the lovely weather up here in Canada was frozen. We decided this was not the greatest idea though, since it didn't look safe.

When we returned to the bridge, the guards had left to patrol the area so we quickly crossed the bridge and took cover among the trees on the other side.

As we wandered around quietly, we began finding evidence of the recent shoot. The first thing we saw was a parked motorcycle which had obviously been part of the shoot. There were a number of safety goggles around. Logic dictates that there were probably used to protect the crew's eyes from the pyrotechnics that took place in the area. There were a few charred remains of a number of vehicles. We're debating whether we were looking at the remains of more than one car or not, but there seemed to be at least two distinct set of remains. One looked like a normal sedan and the other like a truck. We found a mangled ladder which obviously belonged to the side of the truck. Further along the road, there were a number of "wind machines", probably used to simulate some kind of snowstorm. Even further along, we found a number of cranes and camera lifts.

At this point, the guards returned and were forced to hide behind some trees for over 1/2 hour. We finally decided to take a chance and fled the area into the woods. Realizing that there must be more stuff around, we circled the area, traveling deeper into the woods, hoping to avoid any of the the guards.

Suddenly, we found ourselves in the middle of a clearing full of filming equipment. Big pieces of plywood were set up to act as walkways for the crew. A few tents were set up and upon close examination we found a number of spotlights and in general, movie set equipment. There was huge crane visible which had obviously been camouflaged with branches since it was probably involved in a shoot.

At this point, we suddenly heard footsteps approaching the area. Our fears were confirmed when we saw a flashlight beaming through the woods. The guards had found us. We quickly turned around and fled but not before we found a bag full of fake snow. We each grabbed a handful and quickly disappeared into the woods. We could hear the guards yelling for us to stop.

We made it back to the car safely, excited at having experienced such an adventure. As we were leaving, we drove by the entrance to the closed-off road and saw one of the guards in his patrol car at the entrance, scanning the area for the perpetrators he had just missed.

June 12, 1999... We've held off reporting on this page for a few days to see what hard facts we could find out. Officially the word is the production is on hold for the month of June and will start up production again in July, but there's been unconfirmed talk that the start of the movie has been re-shuffled to a mid-September date. We're taking a guess that as the final ACTRA negotiations are being held this weekend in Calgary, once the final decision is known whether the union will call for a strike or not an official press release will be issued by the production. However, that hasn't stopped the Official Marvel Comics Web Site. In his latest ShowBiz column, reporter Rob Allstetter says the film's new production date is September 13th, and that the film still is on-track for a summer 2000 release. [Thanks 'Titano'.]
We've also been sent the film's cool-as-hell teaser poster, seen last week at a movie and TV licensing convention (see top of page.) There's no date given for the film, but it's nice to know Wolverine's forearms have been cast. [Thanks to Eric Lurio for sending us the image, with additional thanks to Wade Snider.]
And as for the rumors we've been receiving...
Oh boy...
Hundreds of e-mails, from concerned fans to anonymous scoopers. If we listed every single X-Men scoop we have received for the past week, we'd need a seperate page.
We've been told a lot of things anonymously and we're not going to buy into any of them until we have some hard proof...and yes, that might never come. Right now it's a game of speculation, with some of what we're being scooped conflicting with other reports we've been getting: that the delay is really about casting issues. That Dougray Scott officially signed a deal on the 7th of June in Australia. That auditions for Wolverine are still on-going. That Russell Crowe officially passed on the role of Wolverine but there's a chance he might be convinced to take a second look. That the decision to make Dougray Scott the current frontrunner for the Wolvie role threw Fox brass into a hissy fit, who wanted a star-level actor in the role, and that the hissy fits turned into arguements. That the casting allotment for star actors is going toward Stewart and McKellen and that's making Fox worried. That Keanu Reeves looked 'X-Men-ish' at the MTV Movie Awards, whatever the hell that's supposed to mean. All we can advise you, dear reader, is this: don't believe anything for a minute until there's some sort of official rubber stamp on it. And right now all that's been rubber-stamped is the casting of McKellen, Mane, and that there's a delay with the production.
Of course, that also includes our latest rumor that veteran actor Tom Skerritt (whose probably best known for his roles in Top Gun, Alien, Frasier, Picket Fences and was most recently seen in this spring's The Other Sister) is the only actor in the running to play the role of anti-mutant rights lobbyist Senator Kelly. So don't believe it...until he's signed.
June 15, 1999... Today a substantial amount of information broke with this film. First, we'd like to report that after months of speculation and hearsay, we have confirmed with 20th Century Fox that Patrick Stewart has signed to play Professor X.
Second, in today's Daily Variety, columnist Michael Fleming confirmed that Dougray Scott has signed the contract to play Wolverine. Scott's contract also has him optioned to star in one additional sequel should the need arise. The article also stated filming starts in September once Scott's finished his commitment to star in Mission: Impossible 2, although we were under the assumption M:I 2 would wrap before then. [Thanks to 'misterdo', 'nplguy', 'Archangel', 'cohetes', 'Longshot', Amin, Brandon Boudreaux, Joe Hanna, 'Stax', Scott Poling, anonymous.]
One other sidenote to the Variety story we were sent by a frequent scooper: According to this person the slight delay in officially announcing Dougray Scott as Wolverine was over the sequel option. Fox wanted Dougray to sign for two, but he would only sign for one. Fox caved in and the deal is done. The scooper also adds this bombshell: "I also haven't heard if Bryan Singer has been able to sign Christina Ricci for Rogue." Suddenly the sound of a quarter-million computer desk chairs squeaking in unison as their owners suddenly sit bolt upright can be heard... [Scooped by the anonymous fellow with the halo.]
Third, the ACTRA membership reached a tentative contract solution yesterday after a weekend of meetings and 28 straight hours of negotiation. The long and short of it is: there will be no actors strike. [Anonymous also helped with this story.]
Four words. One big rumor that's been dropped. "Edward Burns. Think Cyclops." [Anonymous.]
Fifth: well, our coverage of X-Men movie information has grown so large again we had to add our second X-Men archive.
We've also heard that the production has passed on shooting at the Sudbury, Ontario locations, including the Science North building, that were scouted last March. One source in the area says Fox may have been unhappy with the ceiling of the rocky cavern (which is man-made and doesn't look realistic), and some heavy-handed dealing on the part of certain Science North execs might have turned off the production. [Anonymous.]
During the weekend of the 4th to the 6th, the Words into Pictures 99 conference was held in Santa Monica. There Fox chairman Bill Mechanic spoke at a panel covering movies coming out in the year 2000. An audience member asked a question about whether a movie like Fox's X-Men demonstrated the faults inherent in todays studio system, with extensive rewrites and development hiccups. In his response Mechanic actually sited X-Men as an example of the system gone right for a change. According to Mechanic, Fox is really interested in the project as a character driven piece, and they kept getting draft after draft of big explosions followed by bigger explosions. The decision to bring Singer on, and keep re-writing things until they actually got a character driven story rather than FX extravaganza, will make the movie a better picture Mechanic explained. He also revealed the original budget for the film had been around $115M (or was it $150M?, our scooper can't remember), but that the decision to reduce it was also to achieve a similar end. "Of course, $70-80M goes a lot further these days, with digital FX and all," adds our scooper. "So, Bill's take on it was that Fox is really trying to make X-Men a character driven piece. That could just be good PR, but it was only a writer's event. Everyone knows writers aren't taken all that seriously (expect by other writers)." [Lamenting presented by the anonymous one.]
Last, we close today's update with an interesting piece of scuttlebutt delivered by an anonymous bloke. He told us that it was "confirmed" that stuntman/actor Ray Park (who played the wonderfully evil Darth Maul in Star Wars, Episode I: The Phantom Menace) will be in X-Men. Hello? This was confirmed? Anybody else on the face of the planet see this confirmation slip by our noses?? [Anonymous.]
June 21, 1999... Today's Variety let loose another X-Men casting confirmation: 16-year-old Anna Paquin (who took home an Oscar for Best Supporting Actress in 1993's The Piano) has signed on the dotted line to play the power-absorbing mutant known as Rogue. She's presently starring in Cameron Crowe's still-untitled film for DreamWorks and will also star in All the Rage before filming X-Men in her native land of Canada this coming September. [Absorbed by ZENtertainment, 'Exalen','Psydekick', 'Creature', 'Cyke Jr.', Zed, Brian Bedard, 'Cawti', 'Merced', 'Bikerack', 'GenXorcist', 'Longshot', Sam, 'Nords', 'pwyatt', Robert Repsher, Reg, 'Jayster', 'Titano', 'RedDoggX', 'X-Man', 'Shay', 'Siren', Walker Murray, 'Cohetes'DAC', 'Dragon', Scott Damask, 'Alan Swann', 'Ghostmaster Greg', 'Malefic', 'Ryche', 'Satin', 'Mr. Loolar' and anonymous.]
The casting of Paquin as Rogue seems to be generally liked by our scoopers, with the odd dissenting email here and there. "The cast for X-Men is shaping up nicely," writes one of our anonymous scoopers. "Anna Paquin is a solid addition to the film. I tell you, I would LOVE to be a fly on the wall this September, watching Stewart and McKellen lording over the production, sitting in their chairs talking theatre, when..all of a sudden, a 16 year old girl walks onto the set, POLISHING her Oscar!"
Now, back to the rumormongering business. Since we know for a fact that many young actors have auditioned for parts of X-Men, there's been always the hint of possibility that one of the actors we've been told are frontrunners are indeed frontrunners in Singer's mind. That said, remember that no one is absolutely confirmed until an official announcement is made.
Following hot on the heels of the Paquin announcement in Variety, the same regular X-Men scooper that told us as recently as last week Christina Ricci was under serious consideration to play Rogue returned to us to share their pain, their side of the story, and repeat their claim as to who they think will land the part of Cyclops. "Finally!! Bryan Singer made a decision. Anna Paquin is Rogue. I could just kick myself! Someone mentioned her to me on Saturday, and I just couldn't be bothered. I figured I had sent CA enough names,and it REALLY looked like it was going to be Christina Ricci. Anyway, money again plays a factor in casting X-Men. Anna is Canadian, and Bryan should get a break or two from the Canadian government for every citizen of the great white north he signs. Anna DID sign for two sequels. I guess Ricci was told in person that she didn't get the part. Why else would she have been seen around the building? I am going to go out on a limb and say Luke Wilson will win the part of Cyclops." [Anonymous.]
Then a few hours later our scooper came back with some late-breaking gossip they overheard: Kevin Spacey as Senator Kelly? And Vince Vaughn's name has again re-surfaced for the part of Cyke? "But I am still sticking with Luke Wilson," our scooper said to us. [Anonymous again!]
Yesterday another anonymous individual told us that in the wake of the re-shuffling of production dates and casting decisions for X-Men, Ashley Judd could be back in the running for the role of Jean Grey. The scooper is uncertain whether or not Judd has been approached again, just that the possibility now exists once again. [Anonymous.]
Then today someone else emailed us this: "Ashley Judd has been signed for the role of Jean Grey. She will join X-Men after filming is completed on Where the Heart Is." The same scooper, in an earlier email, said actor Jim Caviezel (who starred in The Thin Red Line and is presently filming Frequency) is also in the running for the job of Cyclops. [Anonymous.]
Regardless of which actors are now the frontrunners and who eventually will get to don the costumes, casting should be completed by the end of two weeks.
June 22, 1999... Sometimes the bad mutant telepaths interfere with our writing of this page. Yes, Anna Paquin is really a New Zealander and not a Canadian as we reported yesterday -- OK, she played a Canadian in Fly Away Home, and the government of Canada slips us a $50 every time we make them look good. We stand corrected and apologize to any New Zealanders that took any offense at our, ahem, 'aquisition' of Ms. Paquin's homeland. ['TM', 'Crocodile Andee', Simto Brwol, 'Oldsoul3300', 'Stax', 'Lars Thorwald', 'Quagmire', Jacquie, Billy, and anonymous are all *slowly* lowering their guns.]
Now back to rumor central: proceed with extreme caution!
From a first-time scooper (so we don't know if we can trust them or not:) "This just in: one of the favorites in the running for Cyclops is Thomas Jane, who is going to be doing heroic things in this summer's Deep Blue Sea. He has all the qualities Singer is looking for, but so do a lot of the others, so it is still up in the air. It has rapidly become the hardest part to cast." [Anonymous.]
"Ashley Judd is just in talks for Jean Grey. She has NOT signed a completed contract yet. [Another anonymous soul.]
"I can't say much about this but Sid Vicious (real name Sid Eduy)Is being considered for a part in the movie. I dont know what part yet but I'll find out this week. Oh and if you want to know who Sid is he is a pro wrestler who works for WCW. And he is allso 7' 2"." [Sent in by 'Demon Blood'.]
"The production base is shifting to Toronto in late July and all casting arrangements will be completed by then." [Anonymous.]
And from a previous scooper who's hitting a .500 average: "It appears Luke Wilson has fallen back a bit for the part of CYCLOPS. I have learned that Luke signed on to a small film called Into This Furnace. It begins production late July. Does this mean Luke will not be able to do X-Men? I don't know. Because it's a low budget film, it might have a short schedule, allowing Wilson to still come aboard X-Men this September. Anna Paquin will be doing a small film with Giovanni Ribisi before X-Men, so why can't Luke do one too? All this speculation over an actor who isn't even signed yet!! I am going to lay low for a while, try to save my CA scooping for the next project. I have NEVER been around a production that is so twisted, and I really don't want to mess up the evil gentlemen at CA with valid information, that changes lanes the next second. I will leave you with one last piece of SAFE info. The biggest casting nightmare Bryan is having, is for the character STORM. All the actresses who ARE the part, are too old. All the actresses who are the right age, are too GANGSTA-GAL, if you know what I mean. I think Bryan is going to have go with an unknown for STORM." [Anonymous, but with a name.]
June 23, 1999... We thought yesterday's admission of erroneously reporting Ms. Paquin's actual birthplace was indeed in New Zealand would settle the masses; actually, it turns out we just made the Canadians who read our page get agitated. A number of Canadian readers said that they believed Paquin was indeed a Canadian. The Internet Movie Database lists her birthplace as Wellington, New Zealand, but our readers swear to us she was raised in Winnipeg, Manitoba. Another reader also swears that the production will receive cost-cutting incentives because they've hired a Canadian citizen (this same scooper also mentions Tyler Mane is Canadian as well, although that's unconfirmed.) Again, this information seems to corrobulate what we remember from past interviews and media mentions of Paquin. For the moment we're going to assume she was born in New Zealand and then moved to Canada. ['Snake', 'Phinx' and a few anonymous people in the Great White North spoke up.]
And add another pair of names to the rumor list of Cyke and Jean: this anonymous scooper tells us Christian Bale and Robin Wright-Penn are also being considered. [Anonymous.]
June 28, 1999... Be very, very careful where you step when reading the ever-growing list of actors up for the remaining parts in Bryan Singer's X-Men. In addition to our previous scoops we've also been receiving more anonymous reports about who's auditioned for parts so our mutant senses are on overdrive trying to weed out the truthful ones from the speculation. Here's what we've managed to accomplish: Alicia Witt and Charlize Theron remains in the running for the role of Jean Grey, although one scooper feels Witt's in the lead, perhaps because of her flame-colored locks. Still, we wouldn't count out Theron: she's was seen around the set of Reindeer Games with a newly dyed mane of red hair. Very interesting. And another scooper tells us not to so easily dismiss Selma Blair (Cruel Intentions) from ever having a chair with her name on the back on the X-Men set, as anonymous tells us: "Selma is 27, and because of her age was never approached to portray that particular character. But as far as her potential involvement in X-Men is concerned, she did audition for Jean Grey. We shall see."
Another actress may have also auditioned for the part, but at a later date and more recent than the other contenders for the role of Jean. The scooper revealed this past weekend Minnie Driver (Tarzan) just put up a flag of interest for the part of Jean Grey. According to our mutant hiding in the walls of the X Mansion, the reason for Driver's interest is due to the cast of actors already committed to starring in X-Men, like Stewart, McKellen and Paquin. "Because of the cast the producers have already assembled X-Men has become one of the most coveted jobs in town," writes the anonymous mutant. "That's why it is taking so long to sew up the rest of the casting. Bryan Singer suddenly finds his options wide open." You go, Bryan!
But let's not forget about Cyclops; since the two characters are supposed to be lovers as well as X-Men, obviously the two actors signed to play Jean and Scott will have to look around the same age. In addition to the previously mentioned Ed Burns, Johnny Lee Miller, Thomas Jane and Luke Wilson, add three new contenders: Jude Law (eXistenZ), Paul Rudd (200 Cigarettes) and Jason Lee (Chasing Amy). All we can think is that all of these auditions would make one helluva special feature when the movie's released to DVD format, ya think?
There's also been rumblings that a couple of other veteran actors are more heavily considered for the part of Senator Kelly rather than Tom Skerritt. An earlier report indicated Skerritt was the frontrunner but that doesn't seem to be the case anymore, if it ever was.
But there has been no news about those currently favored to play the windrider of the X-Men, Storm.
One final piece of kinda/sorta related X-Men news to report, and then we're off to play cribbage with our Morlock friend Callisto. A new scooper surfaced to tell us that Bill Todman, Jr. and Joel Simon, whose names are shortly about seen by audiences as executive producers on Wild Wild West are now executive producers on X-Men. Our scooper also said that the duo's next gig after their mutant job has concluded will be remaking the comedy The In-Laws for Warner Bros and Village Roadshow. The first draft of In-Laws is apparently already handed in and the project has been fast-tracked to production. Word from the scooper is the producers hope to re-team Billy Crystal and Robert DeNero from Analyze This to star in the new In-Laws movie. Todman and Simon are also developing Combat! for Paramount with Robert Zemeckis. [The 'vaderpad' has launched.]
June 29, 1999... One quick scoop and then we're outta here: a new scooper e-mailed us to say that, according to a friend of his with close ties to Donner Productions, the part of Cyclops is Thomas Jane's to lose. Also, according to this scooper, the people working on X-Men feel he's about to become a breakthrough actor after his next film, Deep Blue Sea opens this summer. ['Joey Bags' says so.]
July 4, 1999.... Two more X-Men have been cast. Looks like Rebecca Romijn-Stamos has landed the part of Mystique, and Halle Berry will be growing her hair out to play Storm.
And did you really think they would wait for an entire cast before they started shooting? [according to our scooper Dr. Phibes, (of the Toronto Phibes,)] priciple photography is underway in Toronto.
July 10, 1999... "As of Friday - 9 July (this will probably not hit the trades until Monday) Cyclops will be played by Jim Caviezel [The Thin Red Line] - go ahead, folks, bet money on it." [These are the words of an anonymous scooper, who adds only "call me 'Ishmael'." Also reported to us by "Jedi_harry84" and "Trinity" among others.]
July 15, 1999... The following article appeared in the Toronto Star yesterday;
"X-Man Director marvels while scouting Toronto locations for movie about comic book hero
By D'Arcy Doran Toronto Star Entertainment Reporter
Last week, as the city slept, the X-Man began setting up his secret headquarters. Director Bryan Singer's arrival in Toronto is just a precursor to the superhero invasion that will overtake the city when Fox's $75 million epic X-Men, based on the Marvel comic book, begins filming here this fall.
Toronto has made quite an impression on Singer, who directed The Usual Suspects and Apt Pupil. He's been here less than a week scouting locations for X-Men and he has already decided the film's hero should remain a Canadian.
In the comic-book series, the most popular character, Wolverine, who has six-inch admantium claws, was born in Montreal. But Singer had other plans for the hero, who will be played in the live-action film by Scottish actor Dougray Scott.
`Originally, I'd put him in Alaska,' Singer says, voice raspy from recent surgery on a cyst in his vocal cords. `Then I moved up here and it was like, `You know, we should just stick to basics.' We shoot in Canada. Let's have a Canadian hero.'
At 33, and after only three feature films, Singer is already being compared to Alfred Hitchcock and Quentin Tarantino, and Fox hopes that with him at the helm, X-Men will be unlike any comic book adaptation ever to hit the silver screen. In fact, he'd never even read a comic book before he was approached three years ago by X-Men creator Stan Lee.
Singer has already assembled an ecletic cast of Shakespearean and art-house actors along with a Sports Illustrated swimsuit edition covergirl to portray his team of superheroes. Patrick Stewart, Sir Ian McKellan, Anna Paquin, Halle Berry, Rebecca Romijn-Stamos and the other X-Men are scheduled to land here in September.
The movie, like the comic books, is set in a world where some children are born with special powers that emerge at puberty. Labelled as mutants, people reject these teens. Some mutants turn against society, while others, like the X-Men, use their powers to become reluctant superheroes. In the film, Stewart's character, Professor Xavier, the world's most powerful psychic and founder of the X-Men, and McKellen's Magneto lock in a philosophical struggle.
`It's sort of a struggle between Martin Luther King and Louis Farrakan,' explains executive producer Avi Arad from his New York office. `Professor X protects the people who are out to destroy him. Magneto on the other hand, he believes in a different sense of justice. `They will destroy me so I will show them.'
`It's a wonderful combination,' Singer says of Stewart and McKellen. `I just wish they had more scenes together.'
The movie shows the X-Men as they are becoming a team and struggling to bring their powers under control, Singer says. It focuses on the story of Wolverine as he first journeys into their world.
`He provides a good point of view for the audience because I think people view these kinds of movies cynically. Well, so does he. But there is virtue in what they're trying to do.'
`I'm approaching this the way I've approached all the other independent films I've made.'
Singer's best friend and Usual Suspects screenwriter Chris McQuarrie helped give X-Men the same sense of style shown in The Usual Suspects. X-Men will focus on plot and character with a twisting and tightly packed storyline.
`I think the very nature of the subject matter is very surprising to people who don't know what the X-Men are,'' Singer says. `'People like my parents might be expecting Spawn or Power Rangers. For people who are fans of X-Men, seeing them as human beings will be an exciting surprise.
`'The notion of a man who's the most powerful psychic in the world but a slave to a wheelchair is fascinating. It's a wonderful dichotomy. Or there's (the character) Rogue, who's a beautiful young girl but can't touch anyone, can't have intimacy. Or Cyclops, who's an incredibly powerful man and can blow a hole through a wall but can't look at his fiancée.''
The film will use special effects that probably weren't around a year ago, Singer says, but he's determined to keep the camera focused on theactors, not the effects.
He learned what he could about special effects in the three years since he signed on to X-Men by visiting the sets of The Phantom Menace, just outside London, and Titanic in Rosarito, Mexico, where he studied George Lucas and James Cameron at work.
`'Don't worry if you don't have much experience with special effects,' he remembers Lucas telling him. `'It's probably going to make for a more interesting experience and a more original vision.'"
[Thanks to our annoymous scooper for the article.]
July 17, 1999... Just before the end of the business week, one of our trusted contacts told us the character of Toad, one of Magneto's Brotherhood, is now back in the movie. Although the production, Twentieth Century Fox or the industry trades have yet to make this announcement, we're comfortable in saying it's the real deal. How can we say that? Read the next scoop and learn why. [We gave our first anonymous spy the keys to the SR-71 Blackbird for the weekend - our way of saying thanks.]
OK, so how do we know Toad's back in the script? Because we've received three independent confirmations on that fact - including one huge scoop from another source who asked for anonymity. Are you ready for this?
Ray Park (who played Darth Maul in Star Wars: The Phantom Menace) was offered the role of Toad and to be the fight co-ordinator on X-Men. WHOA. WHOA! [Thanks to our second anonymous spy - who we're in the process of securing the unlisted phone number for the female X-Men team member of his choice.]
Now we haven't confirmed Ray Park is signed, sealed and delivered for the Toad part -- but what we do know for sure is that a) Toad is back in the picture and b) Ray Park has talked with the X-Men people although we don't know if he was offered a job (see previous scoops for further information.) Still, after unloading that scoop we need a smoke - but the work must go on. An interesting report has been filed by our buddy Sam. Sam told us he recently read a report on The Detroit Comic Book Continuum that said Jim Caviezel (The Thin Red Line) signed his Cyclops contract late last week. We just finished suring TDCBC and saw no mention of it, so as of right now it's still a rumor.
Also mentioned by the same scooper was their recollection in Variety that Maria Bello (E.R.) has also secured her deal to play Jean Grey (no code name is used for Jean's character in the film.) Again, we checked Variety and saw no mention of this at the present time. [Thank you Sam for the two tips.]
And while Bryan Singer puts the finishing touches on his casting process, another of our mutant spies have told us that the life size replicas of the head and torch portions of of the Statue of Liberty have already been built inside a studio (no doubt guarded by Sentinels) somewhere in Toronto. [Anonymous.]
July 19, 1999... Has Ray Park been offered the role of the Toad? We can safely report to you that yes he has. We've got two solid follow-up reports that make that Park rumor seem as solid as concrete and we're going to share 'em with you today!
Our first confirmation comes from one of our field reporters who attended this past weekend's Wizard World convention in Chicago (where Ray Park was a guest)...
"To add more back up on Ray Park, I was at the Chicago Wizard World Con and a fan asked Ray Park if he would be taking part in a certain Bryan Singer film. His response: 'Possibly. Nothing is signed yet. I don't want to say anything until something is signed. Possibly.'"
[First report comes in from anonymous agent #1.]
Our second scoop was a welcome surprise - it was left on our answering machine at the CA studio early this morning! A crisp British voice greeted us and then told us the following...
"Hello! I was on 'The Big Breakfast' in the UK on Wednesday where I met among others Ray Park, Ahmed Best and Nick Gillard. I just read on your site that he was up for a role in the X-Men. So I said 'I take it you're Toad in the new X-Men', and he said 'Probably, probably,' -- I'm just paraphrasing here obviously - but he said 'Probably, but I'm not sure as yet'. And then he asked me afterwards, after the show, where I found out about it, and there he really said yeah, so it's looks like a confirmation.
"Then I asked him if Jim Caviezel would be playing Cyclops. He said 'Yeah, yeah! Where did you hear about that?' and I said I read about it on the 'Net."
The same scooper dished out some more info about SW2 and then signed off. See, there is a reason we've got a phone line and fax machine hooked up! Use 'em! [A great big thank you to our anonymous Big Breakfast fan for calling this scoop in!]
Later today we confirmed Ray Park's appearance on The Big Breakfast (a British start-your-day-off-in-the-morning television program) through one of our British operatives. Park and the majority of the Phantom Menace crew appeared on the program over the last two weeks promoting the UK release of the latest Star Wars movie. In fact, our confirming source saw the episode with Park on it demonstrating how he handled his lightsaber during thr fight sequences in the flick!
We also received one more additional scoop today: a new scooper who wishes to be known as 'Deskjet' told us "The statue of liberty has yet to be built. They will build a 1/4 size replica of the whole thing and blow it up. I know this because I work for a [censored company] in Toronto that has been hired to do some work on the movie. They said some equipment might be damaged in the explosion." [Watch out for falling debris 'Deskjet'.]
July 20, 1999... Ain't It Cool News broke the story this morning that actor Bruce Davison (Apt Pupil, Longtime Companion) has signed to play anti-mutant rights Senator Kelly. Harry is indeed correct, but Fox hasn't issued a press release just yet.
July 26, 1999... Believe it or not kiddies, it's not Daily Variety or The Hollywood Reporter but MARVEL COMICS web site that's the one which confirms Bruce Davison's official cast announcement as Senator Kelly. It's a done deal folks.
We should also make mention of today's press release mention of the crew standing. Both Lauren Shuler-Donner and Ralph Winter are listed as X-Men producers with Avi Arad listed as an Exec Producer. [Scooped exclusively by 'AHSports'.]
July 27, 1999... Ain't It Cool News claims to have been told Jim Caviezel has officially passed on the role of Cyclops but that's not what we heard today at all. One of our own well-placed sources who's working very closely on the production told us Caviezel's not out but in fact he's already cast to play Cyke (!) and Ray Park is a done deal for the role of Toad!
The weirdness continued when another friend of ours (no, this new person isn't working on X-Men) repeated the AICN story: Caviezel's turned down the part for undisclosed reasons! [Thanks to our pal 'Mentor' for this one.]
Who do we believe? Whom do we trust? We both know our two scoopers identities so all we can say is, for the moment, that we're extremely confused. We're going to try and lock down tomorrow what's going on with Caviezel, but it would be extremely odd that our first well-placed source is in error. We'll letcha know what we find out when we find it out.
July 29, 1999... Reports from Cinescape indicate that Jim Caviezel is still in talks to play the part after all. Apparently a representative for the actor is the source of this information, so it seems nothing has been decided yet. [Who can send a scoop in? "The_Garbage_Man" can.]
Also, Hollywood Reporter is doing what it does best. Reporting. This time it's more on the addition of Ray Park to the cast of X-Men.
"Ray Park is trading his red-faced villain Darth Maul in 20th Century Fox's Star Wars: Episode I -- The Phantom Menace for the evil henchman Toad in the studio's X-Men. The project begins shooting this fall with director Bryan Singer at the helm. Oscar-nominated actor Bruce Davison (Longtime Companion) has also joined the cast as Sen. Kelly, a powerful opponent of the mutant heroes. The project reteams Davison with Singer, who directed the actor in Apt Pupil Ian McKellen, Patrick Stewart, Dougray Scott, Anna Paquin and Halle Berry also star in the film, which is being produced by Lauren Shuler-Donner and Ralph Winter. Bill Todman Jr. and Joel Simon executive produce X-Men, which is written by Ed Solomon and Christopher McQuarrie. Park, repped by Sarah Clossey, Jason Guttman and David Brownstein at Writers & Artists, stars next in Paramount's Sleepy Hollow. The Scotland-born actor starred in Mortal Kombat: Annihilation. Davison, repped by the Gersh Agency, was recently seen in At First Sight. Other credits include The Crucible, The Cure and Six Degrees of Separation.
[This latest scoop provided by 'AHSports']
There's that, and the fact that Hollywood Reporter, Variety, and Cinescape have all confirmed Ray Park as Toad.[Who didn't send us this scoop?]
August 3, 1999... Thanks to a friend across the pond, we've learned that the reason Ray Park cancelled his store apperance in the British comic book store Forbidden Planet last weekend is because he flew to L.A. for costume fitting for his Toad uniform. Unfortunately our scooper wasn't privy as to how long Park's stay in the city of angels would be. [Our rogue spies wish to be known as 'Queen Amidala' and 'Wu-D', which kinda creeped us out.]
In related news, further convention appearances by Park have been cancelled due to his commitment to star in X-Men. Fans sites such as www.maulnet.com are reporting on which con appearances are being cancelled -- but one for sure is still a go. Park will appear at the Canadian Science Fiction Expo planned for later this month in Toronto. Since X-Men will be shooting in that same city, Park's just got to catch a cab to the Forum. [Thanks to the mutant 'Gollywog' for the report. Hey, best of luck getting rid of those leafy bits around your neck.]


SPECIAL THANKS TO : MEMBERS.XOOM.COM/THEXMENMOVIE.HTM
Rebecca's Feeling Blue Today
Super model Rebecca Romijn-Stamos, in Middle Tennessee Saturday, likely is covered in blue paint even as you're reading this. Rebecca told me and Tennessean fashion writer Jill Clendening she was leaving Sunday for Toronto to be in a new X-Men movie. She plays a blue-skinned villainess who can change into the shape of anyone she sees. Scary? Actually sounds weirdly sexy. Rebecca will have blue scales and blue paint all over her body -- and not much else. Sounds cool! Actually, sounds cold to Rebecca: "Three night shoots in the forest," she says. "It's freezing out there! And I'm not wearing much of a costume, so I'm not excited about it."

Cool article, thanks for sending it in!! Men yet. 18-early 20s...